ART AND UNIQUE PORTRAITS FROM PHOTOGRAPHS
by JEANNE NORMAN CHASE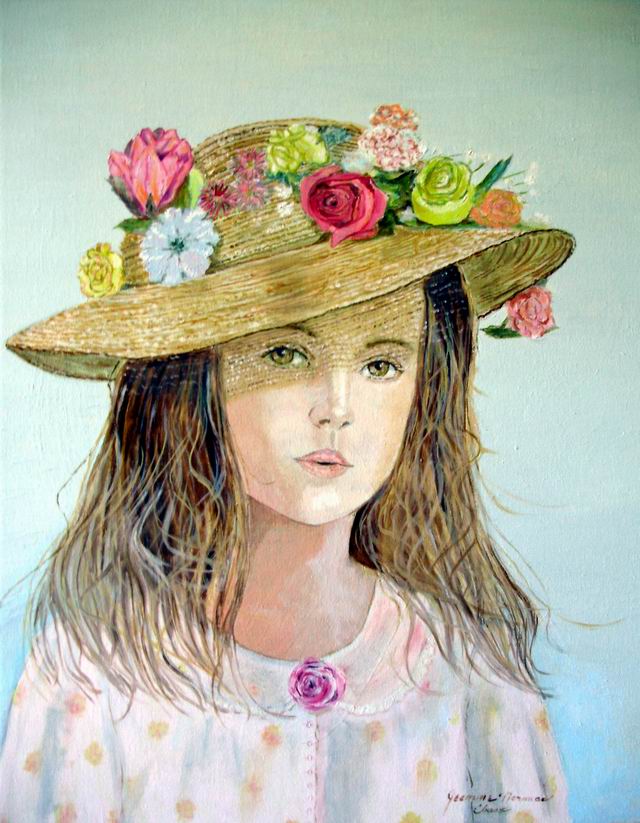 Portait of Angela
22"X28"
(oil painting)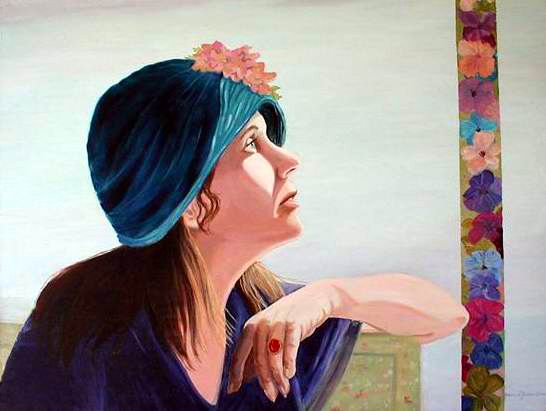 Portrait of Annie Painting embelished with more compatable colors and flower strip
40"X30" (oil painting)
Instead of a copy of a Photo, the artist enhances the portrait to look more like a work of art.
More unique portraits may be found under "patterns"
If desired the artist has a vast array of sunhats,scarves,and flower samples to add to a plain photograph.
This makes the portrait unique and artistic.
MILDRED
Drawing from a very old, damaged Photograph of a loved one.
The flowers were added to make the portrait softer and sentimental.
Photo is in the collection of the owner, As it was too delicate to keep.
Drawn on sepia paper to add to the olden look of that era.
Sizes are 28"X22" & 40"X30" or larger
I ENJOY PAINTING PEOPLE BUT NOT THE ORDINARY PORTRAIT, STIFF AND PLAIN.
I WANT THEM TO LOOK LIKE ART. I LOOK AND STUDY THE PHOTOGRAPH AND MAY ASK FOR MORE DETAILS.
THEN I COMPOSE WHAT I THINK WOULD BE A WORK OF ART. I SEND THE "SKETCH" OF WHAT I WOULD LIKE TO DO FOR YOUR APPROVAL.
I AM SURE YOU WILL LIKE WHAT I DO. IT IS UNIQUE, ARTISTIC, BEAUTIFULLY DONE,
AND WILL CAPTURE THE CHARM OF THE PERSON.
PAINTINGS PATTERNS GOTHICS DRAWINGS MONOTYPES
COLLAGRAPHS SCREEN PRINTING ETCHING DRY POINT
WOOD BLOCK PRINTING THE ARTIST

SLIDE SHOW
internal links



If interested in purchasing
any art works please contact
the artist via e-mail at
studiojnc@verizon.net

Webmaster; geoboogie at,theadmbgie@verizon.net


Copyright �2012 by J N Chase - ALL RIGHTS RESERVED