DRAWINGS

"NOTHING IS STRIDENT IN CHASE'S WORK, THERE ARE NO ABRUPT DIGRESSIONS IN THE WAY THE DRAWING PENCIL IS USED, YET THE DRAWINGS ARE SO WELL DRAWN THE VIEWER DOES NOT LOOK FOR CLEVERNESS OR DEEP HUMAN DRAMA. THE DRAWING IS ENOUGH, CANDID, UNFEIGNED AND FLAWLESSLY TRUE TO THE INTEGRITY OF WHAT THE ARTIST SEES." THIRZA JACOCKS, ART CRITIC
DARWIN
Pencil Drawing
24 X 28

The first name that entered my head.
Guess it was the monkey!
The subjects are paired.
Perhaps that means something in my sub-conscious.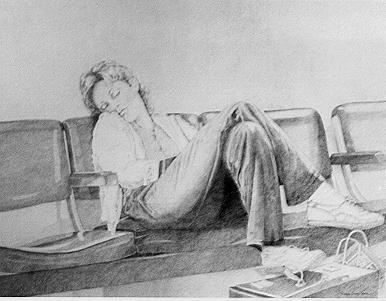 LAYOVER
Pencil Drawing
45 X 36

This scene must be familiar to anyone who has waited in an airport. I actually was lucky enough to have my camera with me to capture this relaxed young lady. I change faces and hair, etc.; to protect the innocent. Added a few objects for interest.

SUNGLASSES Pencil Drawing 50 X 41

Drawing larger than life has always fascinated me. I am a fan of Chuck
Close. And you cannot get any bigger than that.
I like this particular drawing. The way the shadows lay across her face is
mysterious and beautiful. I have always been intrigued with shadows on the
human face and figure.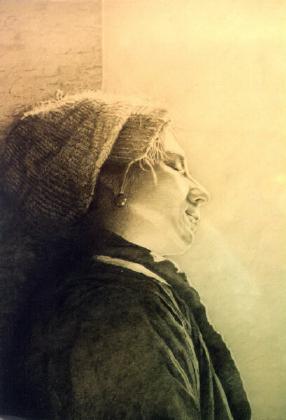 WINTER SUN Pencil Drawing 41 X 50
Another drawing with strong shadows.
Copyright ©2007 by J N Chase - ALL RIGHTS RESERVED