GOTHIC PAINTINGS


The Gothic Paintings, as I call them were a challenge to my imagination. All of the figures were created out of my love of the wierd and occult. No models or photographs were used. I have always been an avid reader of writers like; Lafcadio Hearne, Poe, Correlli, Shirley Jackson and Ann Rice, just to mention a few. The paintings reflect my interest in this literature genre.





THE VISITATION Oil 42 x 42
This painting just happened; First the girls face and then
somehow she had to be fearful of some hidden thing.
The foreground could be animal, man or a combination.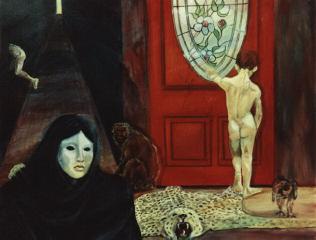 THE LOST DOOR Oil 48 x 42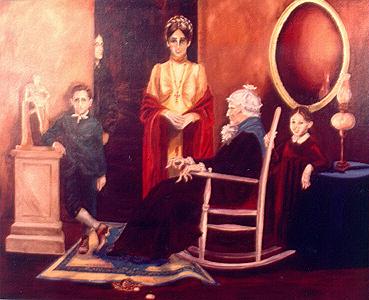 GRANDMOTHER'S PARLOR Oil 49 x 42
Inspired by "Study in Gray and Black" by Whistler.
The Grandmother came first and then I added the Parlor.
All other objects, people were put in as I studied the painting.
The Gothics just seem to come together through osmosis.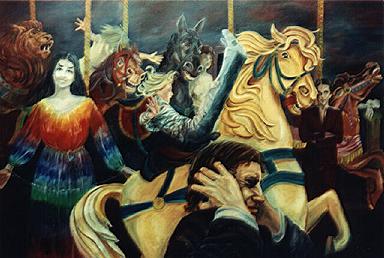 THE MAD CIRCUS Oil 70x50
I wanted the action of the horses to be the main theme. The first, white
horse emerged, then the painting became intense as I added the other horses
and the riders just appeared out of my palette. I also play music as I
paint. the music I feel makes a difference in the mood of the painting. I
like the classics for the Gothics. Perhaps a little Stravinski for this one
Copyright ©2007 by J N Chase - ALL RIGHTS RESERVED